Welcome to ParEvo
ParEvo is a method of developing past histories or future scenarios, using a participatory evolutionary process (hence ParEvo). The process is designed to be used by multiple people, to produce a collective good– a set of storylines about what did, or could, happen. In addition, the ParEvo website generates transparent measures of the value created individually and collectively during this process, available in real time.

The use of ParEvo is free, subject to approval by the Administrator.
How it works - in brief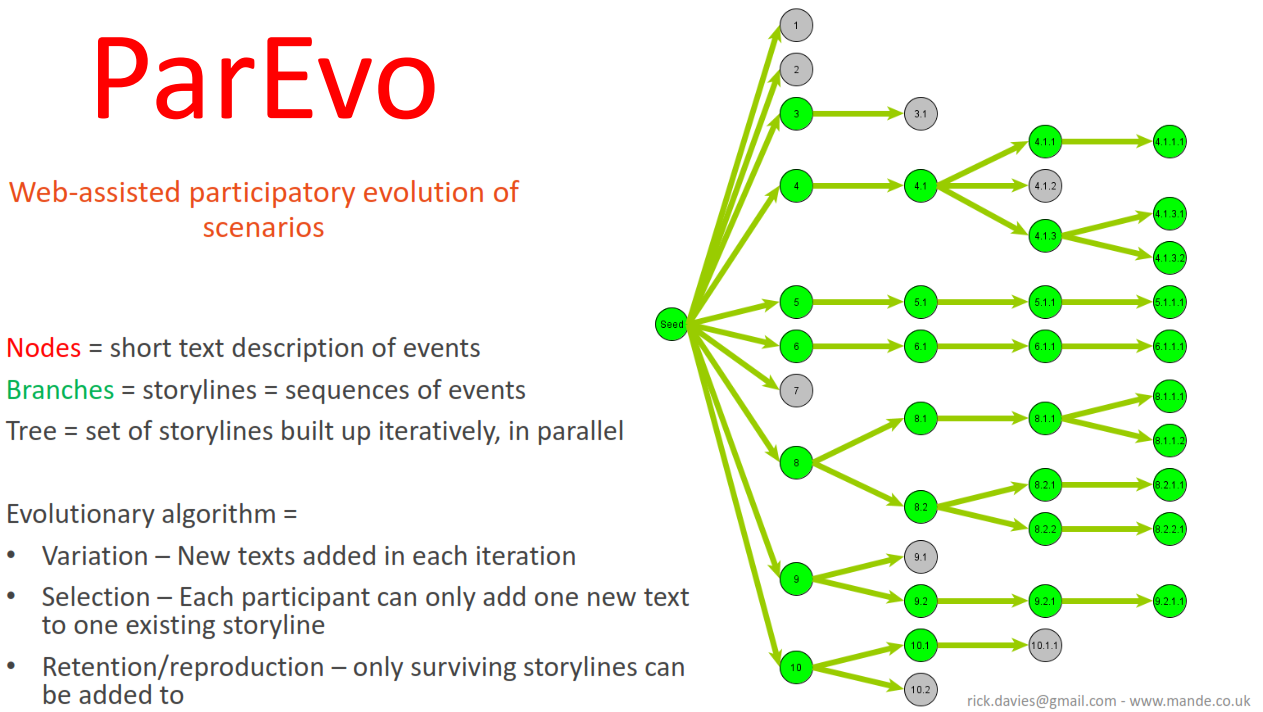 The facilitator provides the seed for a story. This will usually be no more than four or five sentences long, setting the scene for what might happen next
Participants are then asked to each add a short text describing what happens next. These are the nodes 1-10 in the diagram, representing contributions by 10 participants
Participants then read all these contributions and each select one they would most like to continue
Participants then add another short text describing what happens next to the storyline they have chosen. These are nodes 11 to 20 in the diagram
The process of selection then addition (points 3 and 4 above) are reiterated. The number of re-iterations is decided by the Facilitator either at the beginning, or as the exercise proceeds
There is finally a summary stage when the participants are asked to evaluate the surviving storylines in terms of their probability and desirability
In the next version participants will also be able to comment on contributions once they have been submitted.
Find out much more about ParEvo here
All text contributions are anonymous, no author information is made visible. Participants are given a unique but anonymised ID at the beginning

Participants can be given the opportunity to make comments on specific contributions, in between one iteration and the next

The evaluation process can include other criteria, in addition to probability and desirability

The results of each ParEvo exercise can be analysed using a range of measures that are updated after each iteration, describing:

Participants' contribution strategies, by ID
How a participant's contributions were valued by other participants, by ID
The characteristics of the surviving and extinct storylines
The results of any exercise can also be downloaded in .txt and .csv format for independent analysis
The facilitator can vary a range of settings that define how participants take part in an exercise
Getting started
Participants
Participants need to be invited by a Facilitator to set up an account. Please contact your Facilitator for login details. If you have not been invited, you cannot use ParEvo. Once you have login details you can login at any time.
Facilitators
To become a Facilitator, you have to apply to create an account. Use the form below. ParEvo is free to use, subject to approval.
Once approved, you will be able to invite Participants and set up and manage one or more exercises of your own design.
ParEvo email list
If you want to be kept informed of how ParEvo website is developing join the email list: parevo-subscribe@googlegroups.com
Who developed ParEvo?
The ParEvo process was designed by Rick Davies, an evaluation consultant based in Cambridge, U.K.

For more information on the origins of the process design see MandE NEWS - Evolving Storylines.
The ParEvo web app was built by Aptivate: The Digital Agency for International Development.
Copyright
Rick Davies owns the copyright to the ParEvo process embodied in and enabled by this website. Others can use this process, at no cost, if they notify Rick Davies beforehand. For more information on copyright see:
Limitation of Liability
In no event shall Rick Davies be liable to you or any party related to you for any indirect, incidental, consequential, special, exemplary, or punitive damages or lost profits, even if Rick Davies has been advised of the possibility of such damages. In any event, Rick Davies total aggregate liability to you for all damages of every kind and type (regardless of whether based in contract or tort) shall not exceed the purchase price of the product.